DAY TRIP TO CAMBRIDGE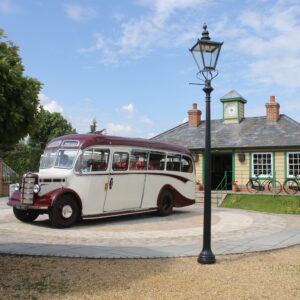 We will travel by non-stop train from King's Cross to Cambridge, to visit the Cambridge Busway We will be traveling on the whole Busway system, using first a single-decker on the Trumpington Park and Ride service, via Addenbrooke's Hospital. We will change to a double-decker on return to Cambridge station for the journey to St Ives via Oakington, Histon, Long Stanton and on to Fenstanton depot. Participants will be given a brief look at the Cambridge Council run Busway Control Centre at St Ives. You will also be shown how the 'Busway' vehicles engage with the track.
For the second part of our day, the party will be picked up by Carriages' 29-seat Bedford OB. Carriages is one of the most popular hospitality businesses in Cambridgeshire. They have built a replica 1920s railway station in Fen Drayton. They have bought four former BR coaches and converted them into Pullman cars. It is the most amazingly atmospheric environment you can imagine. The cherry on top of the cake is the amazing afternoon tea they serve. Naturally, we will be partaking of this; it would be rude not to!
Return to KIng's Cross is at 19.03.
Booking details will appear in the Winter 2022 issue of the Friends News magazine, published in late January.