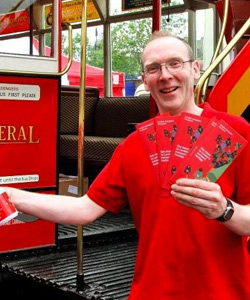 Volunteering is an important part of what the Friends do: Either by volunteering within the Friends' organisation or as part of the Museum's varied activities.

Volunteers support all of the Friends' organisational activities whether it be events, visits or membership. Encouraging new Friends is an important part of what we do, and there's always room for new people to join us promoting the Friends at Depot Open Weekends and transport events around the capital.

Friends may also steward heritage runs and occasionally there may be opportunities for suitably qualified people to conduct or drive vehicles.
The Museum and its Friends will be supporting a very busy programme of public events in 2014. The year has been dubbed The Year of the Bus and will feature many activities to celebrate the vital contribution that buses and bus services have played in the life, growth and mobility of London. You can find out more by downloading our leaflet at the bottom of the page.

Sometimes there are opportunities to help with Acton Miniature Railway or with the Signalling Equipment Restoration Team.

If you are interested in any of these opportunities, do contact friendsadmin@ltmuseum.co.uk.

For those who want to get a little closer to the Museum then there are opportunities to participate in a number of different projects. A number of volunteers may help in the galleries with object handling or conducting. Some will deliver general or art and poster tours at the Depot.

One exciting project which started last year was the recording of oral history: A vital means of recording experiences for future generations. Another one involves Cabbies shelters, which, with a £60,000 Heritage Lottery Fund grant will enable the raising of public awareness of their history and conservation.

Of course, volunteering isn't just one way traffic: You can meet new people with like-minded interests. You can learn new skills, or even just fill a few empty hours. You'll find more on volunteering at the Museum here.