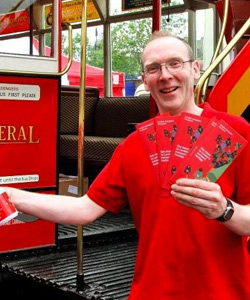 Volunteering is an important part of what the Friends do: either by volunteering within the Friends' organisation or as part of the Museum's varied activities.

Volunteers support all of the Friends' organisational activities whether it be events, visits or membership. Encouraging new Friends is an important part of what we do, and there's always room for new people to join us promoting the Friends at Depot Open Weekends and transport events around the capital.

Friends may also steward heritage bus and train runs; and occasionally there may be opportunities for suitably qualified people to conduct or drive vehicles.

Volunteers may also help with the Signalling Equipment Restoration Team; the Heritage Train Engineering Team; and Q-stock restoration.

There are also opportunities to help with the Friends Sales Team, this may be at The Depot on open weekends or when the Friends Sales Team visits otutside locations such as Steam on the Met.
If you are interested in any of these opportunities, either for the Freinds or more widely with the Museum, please contact: www.ltmuseum.co.uk/support-us/get-involved/volunteering.