EPPING ONGAR RAILWAY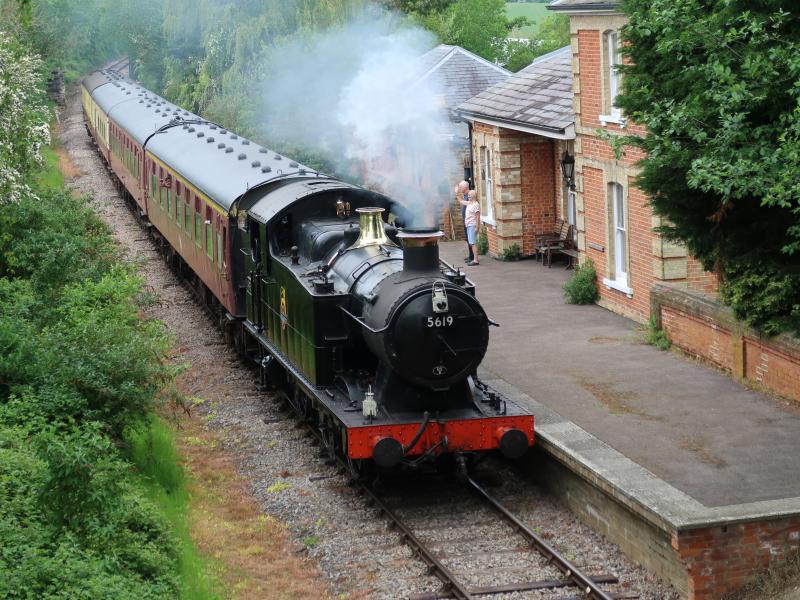 Third time lucky? We have re-arranged the one-off, private all-day visit to the Epping Ongar Railway for Friday 24th September 2021. Here are the details:
The programme will include a diesel-powered trip from North Weald to Epping Forest and return; and steam-powered travel to and from Ongar. You will be provided with a fish and chip lunch on board the train to Ongar and a complimentary drink from the bar prior to your journey. You will be able to visit the signal box, station and hear a talk at Ongar station. You also will have an opportunity to visit the shop and engine shed on return to North Weald.
Heritage London bus travel will be provided between Epping station and the railway's base at North Weald. The day starts at Epping station at 10.15 for a 10:30 departure, with return to Epping station at 16:00. You may also choose to drive to North Weald, where parking will be available. Please state in your application whether you will be joining at Epping or North Weald.
There will be 100 places only for this visit and members will take priority. The cost for the day will be £35 per person to include coffee/tea on arrival, lunch and a complimentary drink. Closing date for applications will be Tuesday 31th August 2021.
You can send payment by electronic transfer directly to the London Transport Museum Friends CAF bank account: sort code 40-52-40: account number 00024141. Quote Epping Ongar and your name as a payment reference. Then send a confirmatory email to helen.friendstrips17@gmail.com.You will receive an acknowledgement and further instructions by email.
If you don't use on-line banking, you can apply by e-mail to Helen in the first instance at the e-mail address above. If you are successful in securing a place, you will be notified by return email; then please follow the cheque payment instructions that are sent to you.
If you don't have an email address, a few places will be kept open for a short while to allow for postal applications. Postal applications will receive written instructions, so please include a stamped addressed envelope.
Cheques required under options 2 and 3 should be made payable to London Transport Museum Friends and sent to Helen Kateley, 2 Hillcrest, The Green, Horsted Keynes, West Sussex, RH17 7AD. Please note that Helen and John Kateley may be moving in the summer; mail will be redirected, but may be subject to an initial delay.
You must complete a health declaration before joining this tour.