OUT OF THE TUNNELS RAF THEMED TOUR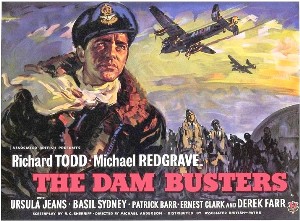 BOOKINGS REMAIN OPEN TO 17th MARCH
We spend three days in Lincolnshire, exploring RAF WW2 heritage and connections with the London Underground, in which tunnels aviation components were made during the War.
Who is the tour particularly aimed at?
Those Friends with members of their family who served in the Royal Air Force or the Armed Services, during the WW2 or afterwards. Friends who have an interest in the Royal Air Force, along with their other transport subjects. That probably covers just about everyone!
Dates: Monday, 20th April to Wednesday, 22nd April 2020
Accommodation: The Petwood Hotel, Woodall Spa
This was home during the War to 617 Squadron: the 'Dambusters'; they even built their own bar, which is still in-situ with all the memorabilia intact. This is a very comfortable hotel with a high standard of service.
Monday 20th April:
08.15 Depart London St. Pancras Coach Station and drive to Woody's Restaurant at Woodland Waters near Grantham, where we have arranged lunch. Afterwards, we will depart for RAF Digby Operations Room Museum, Skopwick Cemetery, Metheringham Airfield, and the Squadron Memorial at Woodhall Spa.
At the end of the day we will visit a fascinating venue: the "Kinema in the Woods", a cinema built in 1922 and virtually untouched since then. We have hired the Kinema, which has a full-sized Compton organ that comes out of the floor, for a showing of the Dambusters film.
Tuesday 21st April
After breakfast, we will visit the impressive Bomber Command Centre and Exhibition in Lincoln, where you will be able to obtain lunch on-site. Following this, we will drive past Wadddington, where you can see from the road one of the Vulcans that took part in the Falklands War. Then it is on to visit some of the key Lincolnshire wartime airfields, including RAF Coningsby, which is the home of the Battle of Britain Memorial Flight. Here we will split into two groups for the fully-guided tour of their very impressive hanger, where Spitfires, a Hurricane and a Lancaster Bomber are on display. You will also find a recreated NAAFI canteen, museum and souvenir shop.
Return to our Hotel for a visit to the Dambusters Bar followed by dinner.
We have two presentations tonight:
19.00 'The Dambusters' - speaker Andy Johnson, who is a member of the Association of Battlefield Guides, with over 28 years' service in with the 'Queens Own'.
20.00 'We Bought a Railway' - speakers John Kerr and Peter Bryant, Cleethorpes Coast Light Railway. (We will visit their railway on Wednesday.)
After dinner, coffee will be served in the meeting room
Wednesday 22nd April
09:00 Depart Hotel for the Aviation Heritage Centre at East Kirkby. After our visit we say goodbye to Andy our guide and travel to Cleethorpes and Lakeside Station, where we will again split into two groups. We will be met by the owners and take the four-mile round trip on a steam locomotive on the Cleethorpes Coast Light Railway, which is the same gauge as the RHDR. We visit the engine and carriage shed, which contains some unique engines.
At the end of the tour, a two-course Roast Beef lunch will be served followed by tea or coffee. Most importantly, you will be able to order a drink in (possibly) the smallest pub in the world - the 'Signal Box'.
19.00 Approximate arrival time at London St. Pancras
What is included?
A three-day guided tour by luxury coach with accredited military guide
Two night's accommodation at the Petwood Hotel, Woodall Spa, with dinner, bed and breakfast
All admission charges
Lunches on days One and Three
All gratuities
Services of Tour Manager
Cost Per Person: £360.00 Double or Twin-Bedded Room
£399.00 Single Room
To book, please follow the booking instructions in the Winter 2020 issue of Friends News.