IN THE FOOTSTEPS OF INSPECTOR MORSE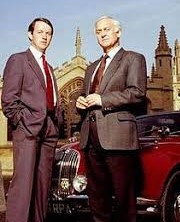 SORRY. THIS TOUR IS NOW FULLY BOOKED.
New tours will be advertised in the Autumn issue of Friends News, due to be published in late October.
Here is the itinerary:
08.15: Meet Mike Kay, your Tour Manager, at the Booking Office end of Platform 1, Paddington station, for travel by train to Oxford.
This will be a very easy day, with some walking, visiting locations such as the Pitt Rivers Museum, The Randolph Hotel, which was used in five episodes of Morse, and a couple of city and college locations. There will be a short visit to the Ashmolean, whose collections include such justly famous treasures as the Alfred Jewel and Uccello's Hunt in the Forest, which was featured in an episode of Lewis. We will then take our Regent 5 to cover the 'Last Bus to Woodstock' episode.
Our last port of call will be The Malmaison Hotel, which was the Oxford City Jail and featured in an episode of Lewis. Here you will partake of one of the best Afternoon Teas in Oxford in a restaurant specially reserved for the Friends' group. After tea, you will be taken on a short guided tour around the building. We will then return to Oxford station, for our train back to Paddington, with an approximate arrival time of 18.30.
The total cost of the tour is £79.00 and includes:
Return rail travel: Paddington / Oxford / Paddington
Heritage double-deck bus for our Morse Tour
The services of a Blue Badge Guide on the Morse Tour
A superb Afternoon Cream Tea at the Malmaison Hotel
Services of the LTMF Tour Manager
To book, follow the instructions in the Summer 2019 issue of Friends News.
You must be a member of the Friends to join this tour.