VISIT WYTHALL BUS MUSEUM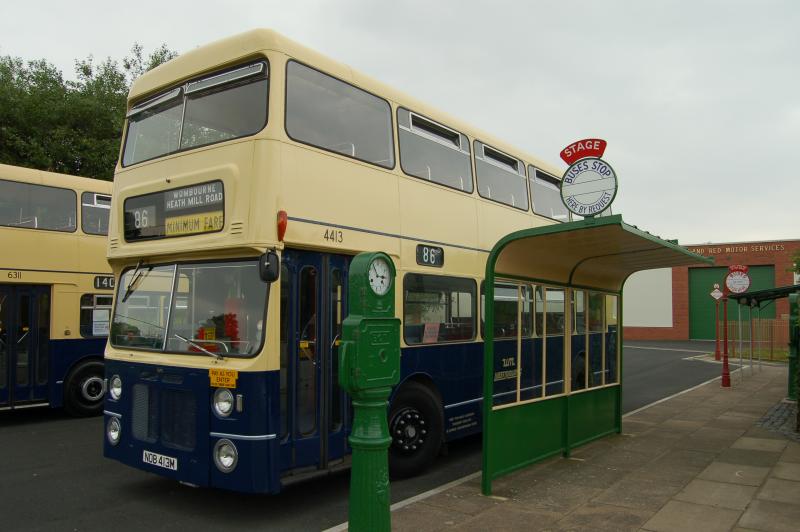 Join us for a visit to Wythall Transport Museum on the outskirts of Birmingham on Thursday 19th July 2018
Our trip commences from Birmingham International station on the main forecourt at 11.15, where we are collected by heritage vehicles from the museum and taken to their Wythall premises. This will be a private visit, during the course of which we will view over 90 vehicles that originate from Midland Red, West Midlands Passenger Transport Executive, Travel West Midlands and the former corporation fleets of Birmingham, Walsall, West Bromwich, Wolverhampton. There are many vehicles from other operators, including a London Transport Green line RCL and a red RF. There is also the biggest collection of battery operated road vehicles, including over 30 electric delivery vehicles, plus a shop, café and much, much more, with a farm café nearby. Wythall Transport Museum staff will be on hand to give you advice and assistance, if required.
Participants are advised to catch the 09.43 train from London Euston, arriving at Birmingham International at 10.53. We will leave at 16.00 from the Museum, to return to Birmingham International to catch the 17.00 train, arriving at London Euston at 18.14. Participants must be members of the London Transport Museum Friends. We have 72 places available. John Kateley will be at Birmingham International station to meet you.
The cost will be £15.00 per person, excluding rail travel, for which participants should purchase their own tickets. Please send your request to attend, preferably by e-mail, to helen.friendstrips17@gmail.com . If you have been successful in gaining a place, Helen will advise you by e-mail. Once your place is confirmed, would you please send a cheque for the full amount, along with your name or names, LTMFriends membership number(s), mobile contact number and a number to call if we have to contact somebody in an emergency on the day. Your receipt will be sent by e-mail. If you don't have an e-mail address, please send your application by post to Helen Kateley, 2 Hillcrest, The Green, Horsted Keynes, West Sussex, RH17 7AD with all the details requested. Helen will let you know by telephone if you have secured a place. You can then send the amount required with a stamped addressed envelope, so that a receipt can be sent to you. All cheques are payable to London Transport Museum Friends.