RIVER ORWELL CRUISE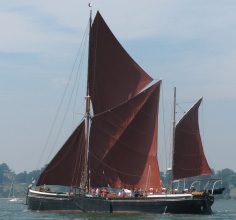 After many requests to repeat last year's cruise, this is your chance once again to sail on the magnificent Heritage Spritsail Barge 'Hydrogen'. On this occasion we have chartered the vessel on the River Orwell from Ipswich on Sunday 24th June 2018.
This is the day following the Orwell Regatta, so there will be plenty of interesting things to see on our four-hour round-trip voyage, including the massive Harwich Container Terminal, where you can view some of the largest vessels afloat.
We will join the barge at the Old Customs House in the historic dock at Ipswich, then move through the dock and lock gates into the River Orwell, sailing under the eye-catching Orwell Bridge. During our sail we will pass Woolverstone and picturesque Pin Mill, one of the most painted places on the East Coast, en-route to Harwich Harbour and Felixstowe Dock before returning.
Hydrogen was built in 1906 and has retained all her original woodwork and equipment. She is part of the Great Britain Heritage fleet and was asked to take part in the 'Queen's Silver Jubilee Pageant' on the Thames in 1977. Her last working days in the 1970's and early 80's were spent carrying whisky.
We will be offered coffee and biscuits upon embarkation and, during our cruise, we will be served a 'Gastronomic Buffet'. Please remember, you cannot wear high heels or any shoe that could damage the decking, so please bring a spare pair with you if necessary.
Cost: £87.50 per person
A gratuity of £5.00 per person will be collected on the day, to cover Hydrogen's crew, the catering staff and coach driver.
For further details, and to book, please complete the booking form in the Spring 2018 issue of Friends News.
Bookings close on Friday 11th May 2018.