ENSIGNBUS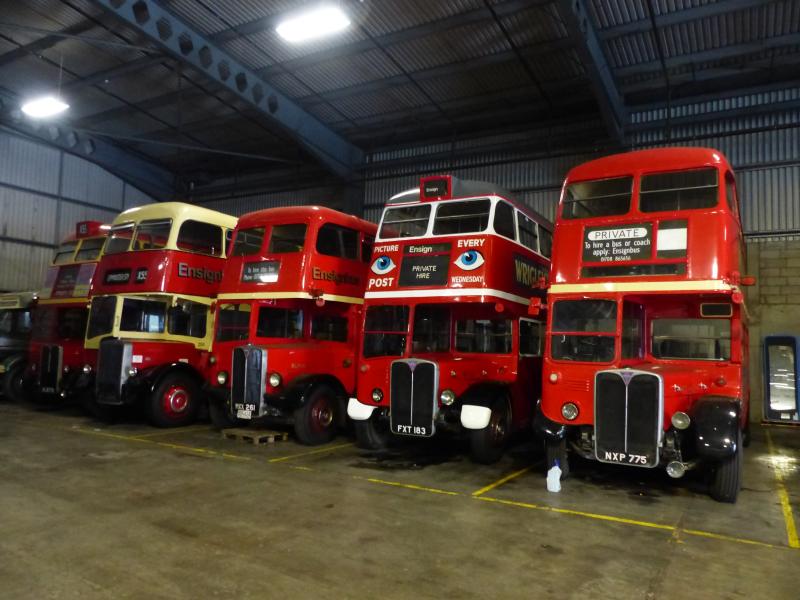 We have arranged a second visit to the Ensignbus Company at Purfleet in Essex, featuring a guided tour of the premises, to view their current activity and, of course, their extensive heritage fleet.
This is an exciting opportunity for the Friends to visit a modern bus and coach depot, which operates day-to-day scheduled and private hire bus and coach services, prepares and sells many types of single- and double-deck buses and coaches and maintains a fully commercially-operated heritage fleet of wonderfully preserved vehicles. We will view these vehicles in various stages of repair, renovation and refurbishment.
The visit will be on Saturday 2nd June 2018. It will commence from Purfleet station at 12.45, where the group will be picked up by one of Ensign's vehicles; this will take us to their depot and, after our visit, return us to Purfleet station. It is highly recommend that you travel by train, as parking is severely restricted at Ensign's depot. It is also recommended you bring your own Hi-visibility vest or top-coat to wear at the depot for Health & Safety reasons, as the Purfleet site is in operation 24 hours a day and extremely busy.
There will be a small charge of £5.00 per person .Sorry, but there are no concessions and the numbers are restricted to 70 Friends only. So please book at the latest by Saturday 19th May 2018.
If you wish to come along, please apply, preferably by e-mail to: Helen.friendstrips17@gmail.com; and, after confirmation that you have a place, forward payment of £5 per person to the address below, stating your Membership Number and including a stamped addressed envelope. Cheques are payable to the 'London Transport Museum Friends'. If you don't have an e-mail address, send your request to come along and payment, membership details and a stamped addressed envelope bypost to: Helen Kateley, Trips Administrator, 2 Hillcrest, The Green, Horsted Keynes, West Sussex RH17 7AD.
Whether you apply by email or post, please also give a contact phone number(s); postal address; and e-mail details (if available).