PRIVATE VISIT TO KENT & EAST SUSSEX RAILWAY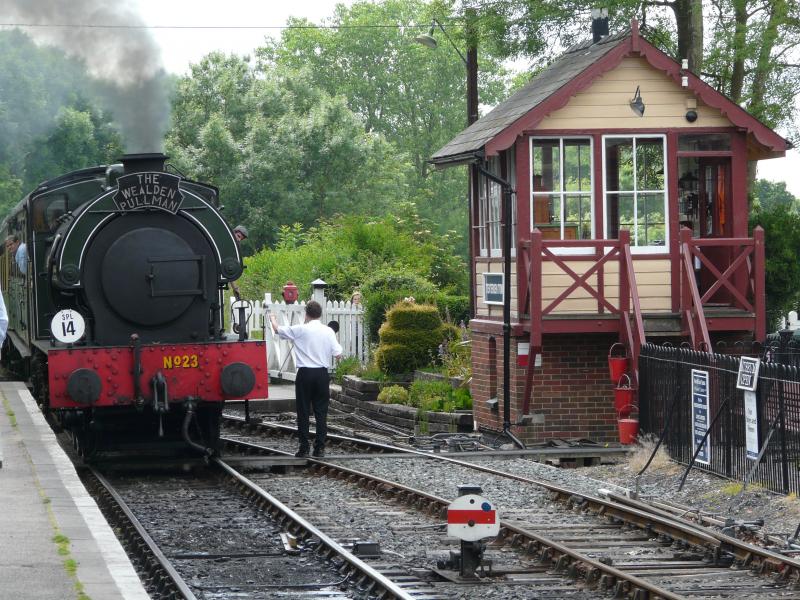 The K&ESR is one of the well-known Colonel Stephens' railways. London Transport Museum's Jubilee coach 353 operated for over 30 years at the Weston, Cleveland and Portishead Railway, another of Col. Stephens' railways The Met. Jubilee coach is currently on loan to the K&ESR and will operate with other four-wheel coaches, including former District Railway coach No 100.
The day's arrangements:
Participants will make their way on the 10.08 high-speed train from London St. Pancras, arriving at Ashford International at 10.46. They will be met there and will then travel by vintage buses to Tenterden railway station, where our visit commences with tea or coffee and a bacon roll or cake in the café. We board our private train to take a journey to Bodiam and return, with stops at Rolvenden to visit first the Engine Workshops. The Carriage Workshops are next; then on to the Pullman saloons, shop and the excellent museum at Tenterden. We will be provided with a packed lunch to be eaten at our leisure.
Our train will consist of the K&ESR's Norwegian Steam Locomotive, or Terrier Tank Engine, hauling a Birdcage saloon, two South East & Chatham Railway carriages, our own Met. 353 and, potentially, the Kent & East Sussex's District Line four-wheeler. Of course, our engine and coaches of choice will be subject to operational availability.
Throughout our visit, Kent and East Sussex members will be on hand to answer our questions and tell us about the railway; its history; and present and future activities. Please remember this is a private visit and is an opportunity not to be missed. The railway is normally closed on a Friday, except for the café; so we will be the only railway travel visitors on the day!
Our itinerary concludes with another vintage bus journey at 17.15, back to Ashford International to catch the 18.16 train, returning to London St. Pancras at 18.54.
Sorry: This trip is now fully booked.
MORE TRIPS AND VISITS WILL BE ANNOUNCED IN THE SUMMER 2018 ISSUE of Friends News, which will be published in late July.