BUSES AT IMBER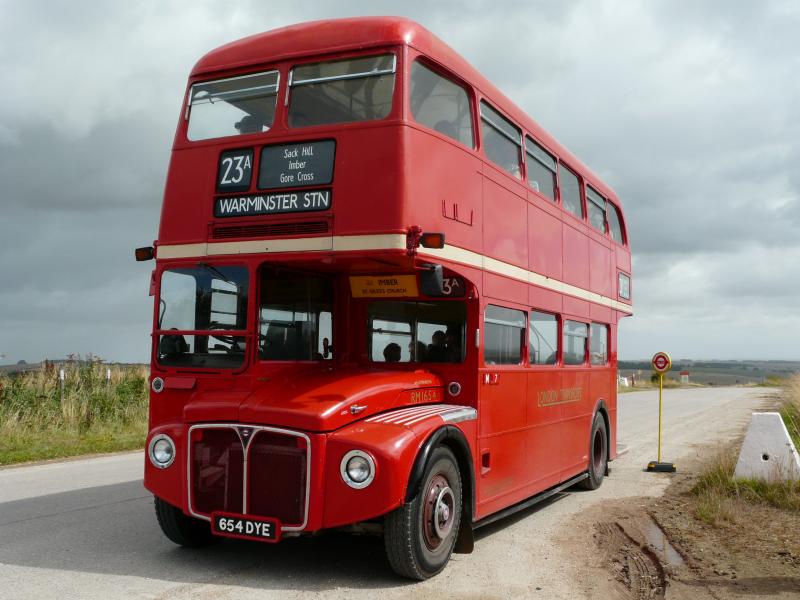 This is your chance to take part in one of the most interesting bus events of the year. On Saturday 26th August, you can travel on some of the remotest bus routes in the country on Ministry of Defence land on Salisbury Plain. The services are unique as they only run on only one day per year.
For 2017, there will be Routemasters and some modern vehicles running on the routes providing a 30-minute service from Warminster to Imber. From there, buses continue to Gore Cross Interchange, then across the plain to Brazen Bottom, the Lavingtons, or on to Tilshead and Chitterne. At Gore Cross, you can connect with the hourly service to New Zealand Farm Camp.  This tour is a photographer's paradise. There will be time to visit the abandoned Imber village, now used as an army training ground; and St. Giles's Church.
It is possible to complete all the routes in about five hours; but, as we have eight hours, it will give you a chance to explore the destinations and let you take part in one of the highlights of this event: the final 18.00 departure from Imber.
For this tour, we have teamed up with our friends from Buses magazine; and it is hoped Alan Millar, the Editor, will be with us on the trip.
What is included:
Return coach travel on Epsom Coaches' brand new tri-axle Mercedes vehicles, from St. Pancras coach station departing at 07.30 or Reading station at 09.00.
Our group will travel directly to Chitterne, where heritage buses will be waiting just for us. This will avoid the normal queues to get into the bus system at Warminster.
A souvenir bus pass valid on all Imberbus services for the whole day, plus timetable.
The latest copy of Buses magazine for every LTMF passenger.
A packed snack lunch that can be collected at any time from Warminster station Refreshment Rooms.
Return travel from Warminster station after the arrival of the 18.00 departures from Imber.
The services of Mike Kay, your Tour Manager on the day.
Total Cost £42.00 per person.
To book, please complete the booking form in the Spring 2017 issue of Friends News. Friends may bring non-members on this trip.