Acton throws open its doors again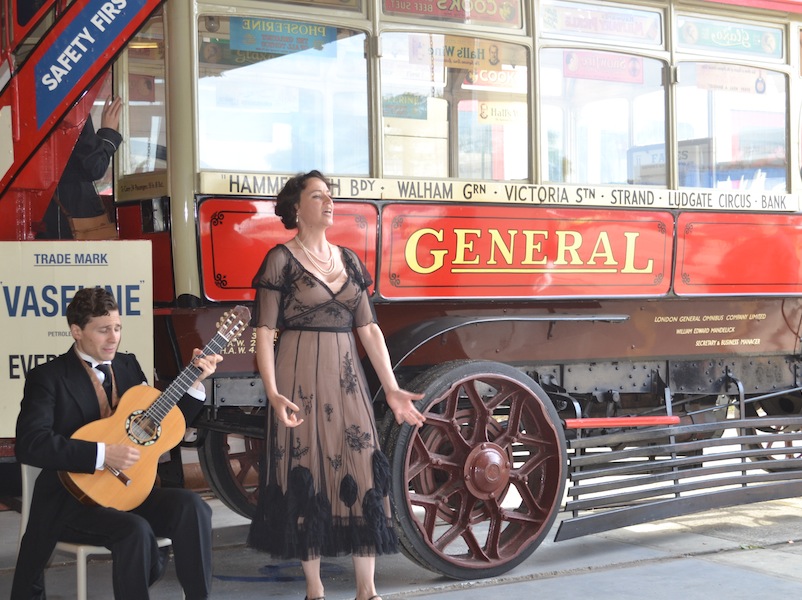 Last weekend's Museum Depot Open Weekend played host to a surprising number of children given its World War 1 theme.
Battle Bus had arrived from Covent Garden freshly painted in khaki as it would have been in 1914 before its driver took it to the Wstern Front laden with troops. Actors entertained the visitors and the sober nature of WW1 was enlived by morale-boosting choruses of It's a long way to Tipperary.
Elsewhere, visitors were getting to grips with the sheer volumn of relics stored at Acton: From cogs and wheels to buses and carriages. The Cavalcade and garage open days - as part of Year of the Bus - had renewed enthusiasm for road vehicles with visitors eagerly looking for the buses they'd seen in Regent Street.
Sharp-eyed train enthusiasts spotted the last remaining Metropolitan line C stock train in the yard, whilst souvenir hunters grabbed the last few luggage racks and other kit from the carriages that were scrapped.
Inside, Metropolitian carriage 353 continued to be the crowd-pleaser with people admiring its splendid Victorian renovation for last year's 150th celebrations. It was the shining star amongst those fading and awaiting their return to glory: A sad Waterloo & City line train waiting to be restored to Network South East livery and a neglected dilapidated wooden carriage, to name a few.
In between the demonstrations, lectures and storytelling, there was time to ride the Acton Miniature Railway and take heritage bus tours of the surrounding area. And around 100 volunteers supported the Museum's staff.
The Friends memorabilia area saw swift business, whilst the membership team recruited more than 45 new members.