Friends trustees retire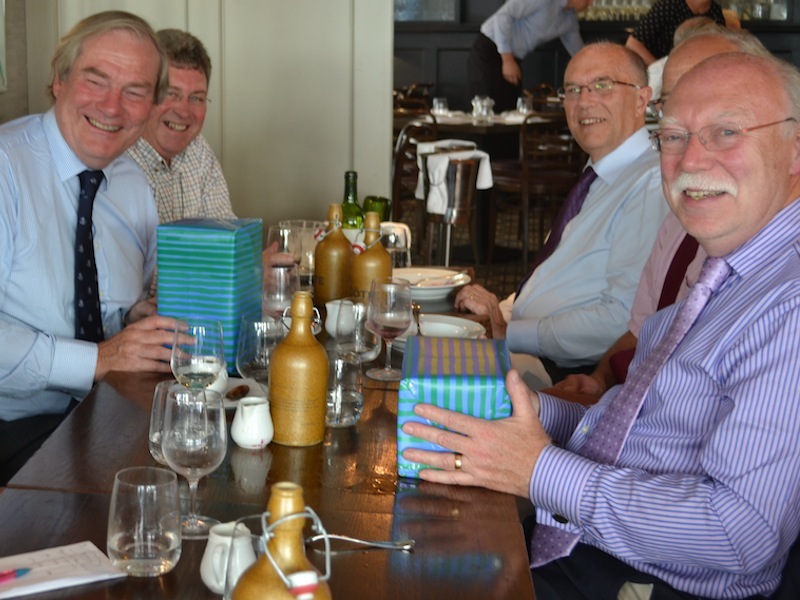 The retirement of two long-serving trustees, Frances Read and Andrew Scott, was celebrated at a special lunch this week in Covent Garden.
Francis, solicitor to the trustees, recalled how he had been asked by his firm to draft the original trust deed in 1981. He had no direct experience of such matters at the time and sought advice from the National Railway Museum and its Friends. The document produced over 30 years ago has stood the test of time, as it has never yet had to be amended.
Andrew, formerly a Director of both the London Transport Museum and NRM, has been a trustee since 1994. He paid tribute to the high regard in which the LTM and its Friends are held in professional museum circles. " They make remarkable things happen."
Both retiring Trustees were warmly thanked for their long service and wise counsel by trustees' Chairman Ian Arthurton, who presented both with a limited edition Tube 150 carafe to mark the occasion at a special lunch at the Cote restaurant round the corner from the Friends' office.
Oliver Green, LTM Research Fellow, has accepted an invitation to serve as a Trustee to fill one of the vacancies.