RED ARROW RUN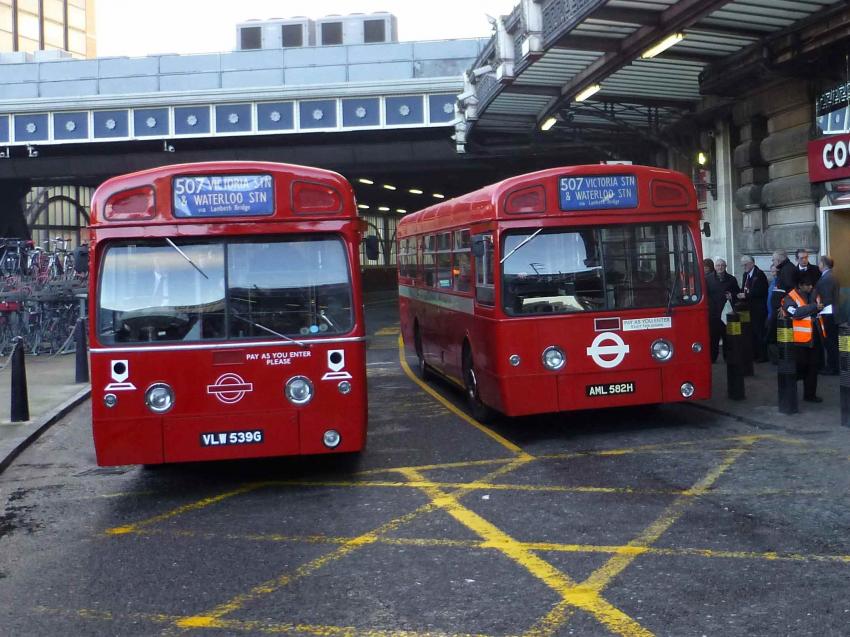 To celebrate the (very approximate) 50th anniversaries of the introduction of the first Red Arrow service on route 500 in 1966 - and the introduction of route 507 in 1968 - London Transport Museum Friends took part in a re-creation of these routes on Thursday 14th December. The buses invoved were London Transport Museum's MBA 582, along with fellow AEC Merlin MBA 539 and Leyland National Greenway GLS 490 - the latter two vehicles from the London Bus Company collection.
The vehicles ran over route 500 from Victoria station via Park Lane and Oxford Street, back to Victoria. They then followed route 507 from Victoria to Waterloo, via Victoria Street and Artillery Row.
LTM Friends' Chairman, Barry LeJeune, took the opportunity to make a presentation to retiring TfL Director (Surface Transport) Leon Daniels to mark the LTM Friends' appreciation of his support for the Museum and heritage bus operation over many years.