55 BROADWAY ARCHITECTS DRAWING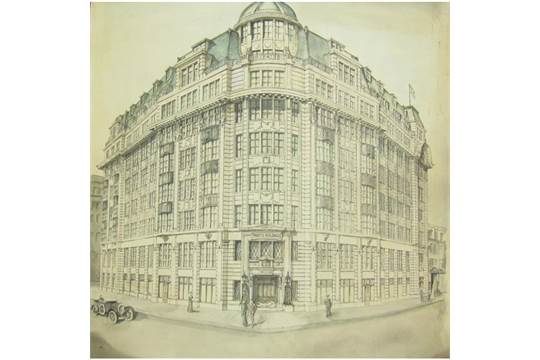 This is a pen and ink drawing on linen with a blue wash tint. It is an architectural illustration by Stanley A Heaps dated 1916 of the "Traffic Buildings" incorporating St James Park Station, probably a proposed design Heaps submitted for the rebuilding of the Underground Electric Railways Company for London (UERL) head office - 55 Broadway.
In 1908, Heaps became the Underground Electric Railways Company of London Limited (UERL)'s architect and produced designs for a number of new stations on the Bakerloo and Northern lines during the 1910s and early 1920s. Architect Charles Holden was commissioned to undertake the rebuilding of UERL's head office between 1927 and 1929, Heaps's proposed design being rejected.
The Heaps' drawing was acquired by the Friends for London Transport Museum in January 2017.